ADV-Care

Instructions
Getting your prescription delivered has never been easier!
Login and order your refill
---
If you're ordering a refill, simply login, select the medication you want to refill and place your order through the order form, then provide your payment method and shipping address to complete the order. You are done!
Please place your refill order one (1) week before you run out of your medications.
Send us your new prescription
---
If you're ordering a new prescription, follow the above instructions, and then send us your original prescription by mail. Alternately, you can ask your doctor to fax it to us directly or send us an e-prescription through PrescribeIT on your behalf. We are required by law to have the original prescription in hand before shipping any medication to you.
Our Delivery policy
All medication delivery is processed by Canada Post Express Post registered delivery service. Contact our Customer Service for Other delivery arrangement.
Our delivery guarantee
ADV-Care Pharmacy monitors every shipped package to ensure that delivery is made within the specified time, and we automatically initiate an investigation on behalf of the customer if it's not.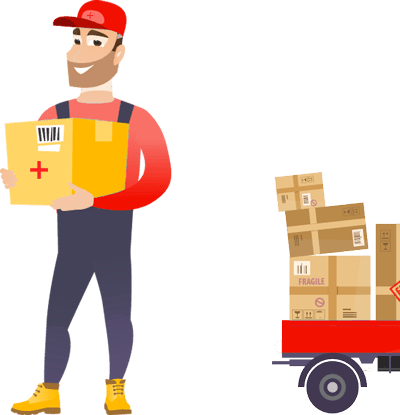 Shipping costs and delivery times
The table below sets out shipping costs1 and delivery times.
| Destination | Method | Cost | Time |
| --- | --- | --- | --- |
| Local 2 | | Free! | 24-48 hours |
| Canada 3 | Regular | CAD $9.00 | 2-5 days |
| Canada | Rush | CAD $16.00 | 24-48 hours |
Note that special rates apply for shipments weighing more than 1.5 kg (3.3 lbs). Call our customer service line for more information at 1 (905) 948-1991 or toll-free at 1 (888) 471-4721.
Applies only to postal codes beginning with L3R, L3T, M2H, M1W and L6G.
Shipping fees are waived for orders of $89.00 or more within Canada, if they weigh less than 1.5 kg (3.3 lbs).
We accept Visa, MasterCard, American Express and eChecks. You can pay for your order in three ways:
Through our secure online system or app.
By fax. Our fax is located in a secure area of our offices for your privacy. Simply print out the payment form (downloadable here), fill it out and fax it to (905) 948-0464 or toll-free to 1 (877) 948-0464.
By telephone. Call our Customer Service at (905) 948 1991 or toll-free at 1 (888) 471-4721 during business hours (9:00 a.m. – 5:00 p.m. EST, Monday to Friday).
Payment by credit card
We accept Visa, MasterCard, American Express
If you're paying for your medication or paying your Health plan deductible you may pay by eCheck, money order or credit card. Call our Customer Service at the number above to get the exact amount for your money order.
When supplying your credit card information, you agree and accept ADV-Care Pharmacy Credit Card Consent Agreement . please be sure to include your name exactly as it appears on the card as well as the expiry date and the security code that appears on the back of the card. Click here to download our Credit Card fax authorization form
Payment by money order or E-Transfer
If you wish to pay by money order, please call our Customer Service at 1-888-471-4721 to confirm the exact amount of your order. You can also send your payment using E-Transfer to [email protected]. Indicate your order number for all payment transfer.
Payment by eCheck
Payment by eCheck is essentially a pre-authorized debit from your bank account. To pay by eCheck, you must first fill out a pre-authorization form. For orders paid by eCheck, we require an additional two business days to clear the funds. Call us to get pre-authorized form.
You have three options for your eCheck pre-authorization:
1. You may pre-authorize a single payment in an exact amount.
2. You may pre-authorize regular payments for an exact amount. This is useful if you expect your prescription to remain identical for a long time.
3. You may pre-authorize a flexible payment option where the amount is permitted to change each time. This is useful if you think you may add, remove or change prescriptions in the future, or if you may wish to change your shipping options.
Please note that for orders paid by eCheck, we require an additional two business days to clear the funds.
eCheck Debit Instructions
ADV-Care eCheck will produce a check or electronic debit for the amount of your purchase. The ADV-Care eCheck will be routed to your bank for payment, just like a check written from your checkbook. Only the amount that you have specified on the eCheck will be debited from your account. Your bank will include the ADV-Care eCheck with your regular monthly statement information. This transaction is secure and all information contained within are subject to ADV-Care privacy standards.
To use this eCheck you must have a valid checking account with sufficient funds to cover this transaction.
Take a check out of your check book and make it out to ADV-Care Pharmacy or write VOID across the front (Once the check is used, do not re-use again)
Bank check, the first set of number is your check number, the second set of number is your bank number(always 4 digits). The 3 digits for the bank number is followed by your account number. See below a copy of typical Canadian bank check.
Click on the "Continue" button to submit your account information. Charges are not automatic & only processed once your paperwork/order is complete. To avoid duplicate submission only click "Submit" once.
Submit your AUTHORIZATION FOR E-CHECK DEBIT form when you use this payment method for the first time. Send this signed form with all the necessary paperwork for your first order (include original prescriptions and a brief medical summary).
Also, you can click here to download our eCheck authorization form.
Keep the carbon copy of your submitted check for your records.
ADV-Care will provide a Receipt along with your order containing the details of your purchase.
Bank Check
Conditions for eCheck Debit Payments:
There will be a $35.00 fee or the maximum amount permitted by law for returned checks. The check writer is also responsible for all other costs of collection.
Your usage of eCheck debit for payment is your acceptance of this agreement and its terms.
Check fraud and fraud attempts will be reported to the authorities and prosecuted to the fullest extent allowed by law.
Payment by personal cheque
You can pay using a personal cheque made out to ADV-Care Pharmacy. If you're using the app, you can pay by cheque by taking a picture of your personal cheque and sending it in with your order. If you prefer to use mail, send it to our address or fax a copy of your check to (905) 948-0464.
Please note that for orders paid by personal cheque, we require one additional business day to clear the funds.